We know, we know. Planning your big day in the COVID-19 world can be INSANE. It requires a flexibility, and a willingness to update your plans as you receive new information. That's why, as the date approaches, it's crucial to keep a close eye on official announcements such as mask mandates, capacity minimums and essential information that may affect your wedding.
To help you out, we've put together some essential resources for those planning a wedding in Vermont during the coronavirus pandemic. Read on and don't forget to bookmark, and check back often for updates!
Postponing your wedding? Here are five tips.
As of this writing, about a month ago, Vermont Gov. Phil Scott loosened restrictions, allowing restaurants and meeting venues to increase their capacities to 50 percent occupancy (based on fire code). Caps have been placed at maximum of 75 people for inside venues and 150 for outside. For instance, an outside event with a tent rated for 400 people will be able to accommodate 150 guests.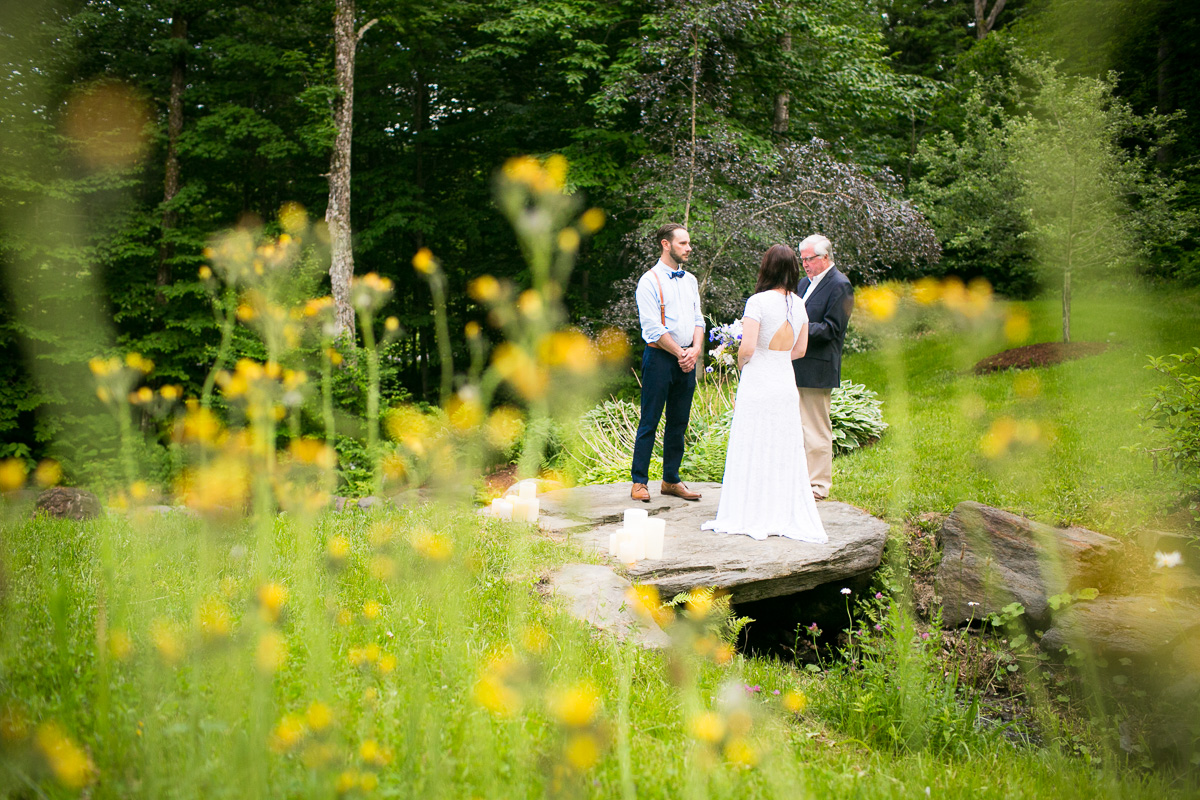 This past Friday, Gov. Scott announced strengthened mask requirements in public places and congregate settings. Effective Friday, August 1, 2020, the amendment requires all Vermonters to wear masks or cloth facial coverings any time it is not possible to maintain a physical distance of at least six feet with others from outside their household.
Regardless of whether your wedding team is updating you, we recommend checking weekly or bi-weekly on your own for statewide updates.
Those who are not required to use masks include those exercising outdoors, those under the age of 2, those with a medical or developmental condition that is complicated by a facial covering and those with difficulty breathing. Businesses and other entities may require customers to wear masks, including signage explaining mask requirements and denial of entry or service to those who decline to wear masks.
Your wedding venue and vendors should be up to date on the latest state rules, but we recommend checking in weekly or bi-weekly for new updates on your own.
For the latest Vermont state COVID-19 responses and resources, bookmark this page and check it weekly for updates. Also follow @GovPhilScott on Twitter for announcements. Official state announcements are typically made on Fridays.
In addition to the caps on events, the State of Vermont has determined that any county with less than 400 active cases of COVID-19 per one million residents is now eligible for quarantine-free leisure travel. Check out the Agency of Commerce and Community Development (ACCD)'s Cross State Travel Map for the most up-to-date info.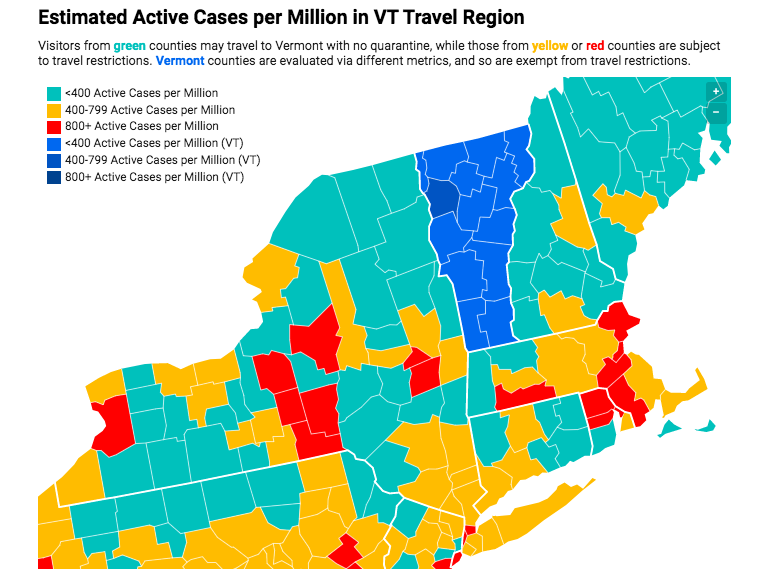 Map: Vermont Department of Financial Regulation, Updated: 7/24/20 Source: Johns Hopkins University & New York Department of Health
The Vermont Association of Wedding Professionals has also put together an excellent Google Doc, Vermont State Wedding & Event Specific Reopening Guidelines, extracted from the ACCD Phased Reopening Plan.
The CDC has put together a list of considerations for postponing or canceling gatherings, and discourages events of any size during this time.
We know it can be hectic getting your wedding planning done during COVID-19, but hopefully the above info and links can help you plan smarter and have a beautiful, amazing wedding day!
Check out our latest posts for more COVID-19 information and wedding planning tips, as well as how to plan a micro wedding in Vermont.